Bend
Selectemp's Bend office is lucky to call Central Oregon home!
Address:
376 SW Bluff Drive, Suite 2
Bend, OR 97702
Phone: 541.749.7931
Fax: 541.749.7936
Selectemp Employment Services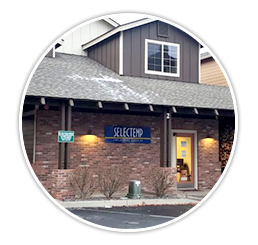 Selectemp's Bend branch has been servicing Central Oregon since 2005. We specialize in the administrative, clerical, construction, light industrial, production and millwork industries as well as special projects. Dubbed the "outdoor playground of the West" for a thousand good reasons, Bend is world famous for both its outdoor pursuits and pristine beauty! Bend is known for over 300 days of sunshine and being named one of the fastest growing cities in Oregon!
We work with many successful companies all over Central Oregon. We learn their business and the details of their staffing needs and go beyond just the basic job descriptions. We take pride in knowing our employees for more than just their skills and capabilities. We get to know their goals, interests, personalities, what motivates them and what they want in a career, in life. This is how we successfully match talent with opportunity.
We are active members of the Bend Chamber, Redmond Chamber, Central Oregon Builders Association, Premier Builders Exchange and many other local associations. We are also volunteers in our community. Our team is dedicated to making a difference, one person and one company at a time and we look forward to assisting with all of your staffing needs.
Send us a note…
We'd love to hear from you! If you can't find what you are looking for – send us a message and someone from our team will be in touch shortly.