Finding top talent for your company can be a challenge, especially now that the unemployment rate is low and employees have more choices for their careers. One way to make sure you find quality employees is to work with a temp agency — but how do you know which agency to partner with?
When searching for a staffing and recruitment agency, it's important to remember that not all temp agencies are the same. For the best experience, you'll want to find a service that can meet your specific needs.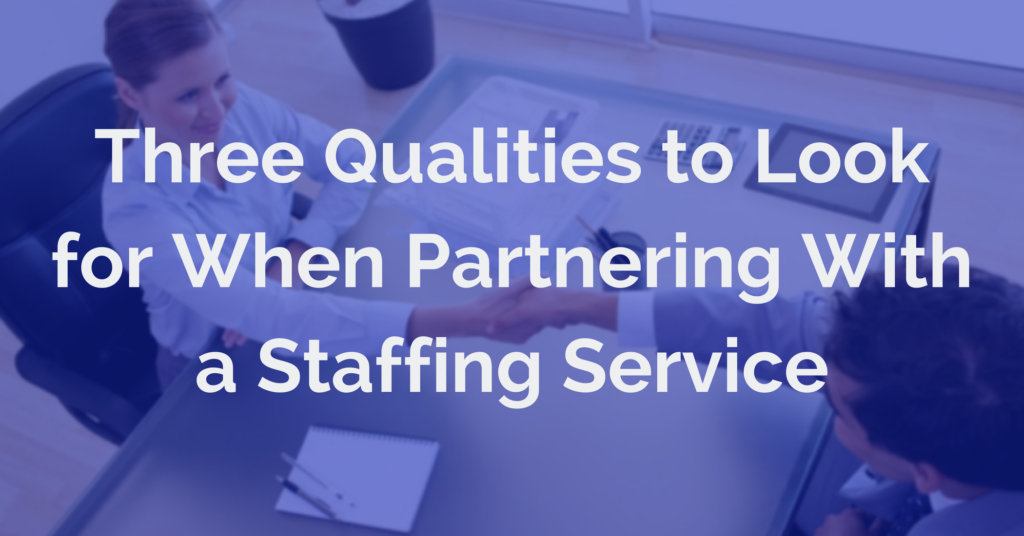 Here are three qualities to look for when partnering with a temp agency:
1. Active Listening
One of the most important qualities recruiters can bring to the table is the ability to listen to a customer's needs. They should take the time to understand your company culture, the job duties and exactly what you are looking for in future employees. Communication is huge!
At Selectemp, we strive to keep an open dialogue throughout the entire recruiting process and really listen to what our customers are saying. We are most successful when we collaborate as partners to find the best talent for you.
In doing so effectively, we will actually save your company time and money by helping you hire quality talent in a timely manner. I have been with Selectemp for 27 years and we always strive to have the right talent at the right time.
2. Attention to Detail
A perk to consider when partnering with a temp agency is that we do all of the HR functions for you. You don't have to spend your valuable time on recruiting tasks. Leave it to the experts — us!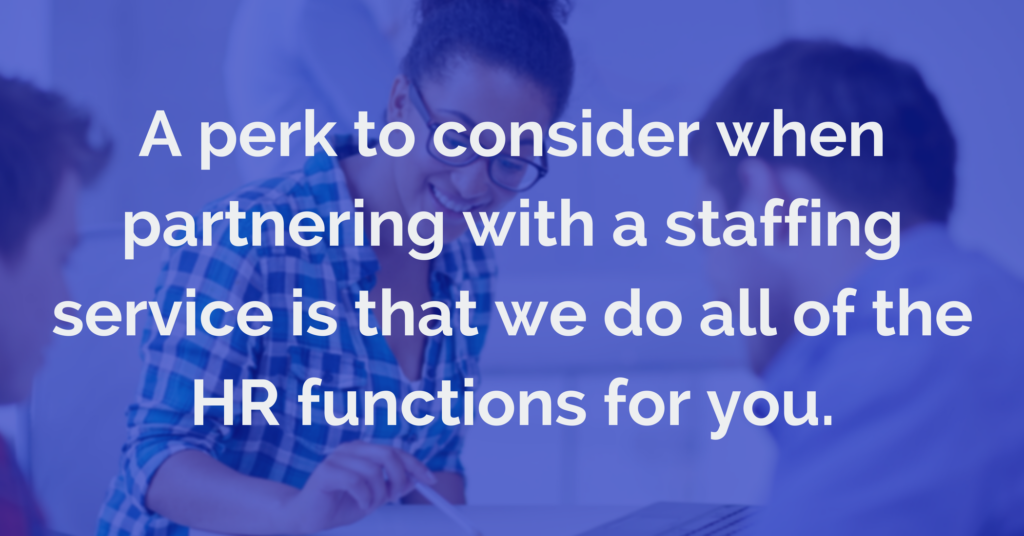 Some things that reputable recruiting services take care of for you include, but are not limited to:
Job opening promotions and ads
Reading through resumes and cover letters
Phone screens
Preliminary interviews
Background checks
Skills assessments
There are a lot of moving pieces during this portion of the recruitment process. However, an outstanding temp agency will make sure all the loose ends are tied up for you!
At Selectemp, we pride ourselves on only sending our clients qualified talent who are prepared for the expectations set forth by them.
During our recruitment process, we take the time to have in-depth discussions with potential hires to make sure we understand what they want in a position — and even more importantly, what they don't want. It's how we set them up for success.
That way, you don't have to spend unnecessary time sitting through countless interviews with candidates who simply aren't a good fit.
Additional details that should never be overlooked are safety rules and regulations. Many of the jobs we fill must abide by certain OSHA laws.
As a trusted staffing partner, we'll keep you updated on new rules and safety protocols. We also make sure the talent we send are given proper safety policies and procedures and are made aware of potential job hazards.
3. Seasoned Expertise
There are many temp agencies out there, and it can be overwhelming to say the least. How do you ensure you will choose the right one?
A good recommendation is to choose a staffing partner that has a proven track record of success.
Choosing a trusted temp agency will ensure that any kinks that come along with running a new business have already been worked out. They will have a wide variety of candidates in their network, allowing them to fill positions quicker and be the effective resourcing and recruitment experts that you need.
Staffing agencies that have been in business for many years have become successful by going the extra mile to consistently present high-quality talent and develop partnerships with reputable companies over time.
At Selectemp, we have been providing outstanding service to Oregon companies for more than 30 years. We believe special care, attention, and meticulous service has allowed us to build strong partnerships with our customers.
In return, we continue to fuel companies in the Pacific Northwest with qualified and dependable talent.
See what some of our customers have to say:



By keeping these three qualities in mind when vetting your potential staffing partner, you will soon be on your way to a lasting relationship of matching qualified talent with opportunity — all while saving your company time and money.
If you are looking for a temp agency to partner with in Oregon, give Selectemp a try! Contact us to learn more or visit selectemp.jobs.